History Of Young Living Essential Oil Distilling
It is definitely not a secret that Gary Young is the modern-day father of essential oil distillation, but few people know the history of the Seed to Seal process. Gary designed and built the first proprietary stainless steel vertical steam distillation system in North America.
Through a lifetime of study, practice, and innovation, Gary elevated essential oil distillation into an art. He first began studying distillation in Provence, France, with retired professor Henri Viaud. He also later went on to study botanicals and distillation with Marcel Espieu, the president of France's Lavender Growers Association for over 20 years. In 2002 Gary invited Marcel to speak at convention. He validated Gary's pioneering and expertise when he spoke at the Young Living farm in Mona, Utah, and said, "The student has become the teacher."
In order to produce the top quality you have to distill this plant through steam distillation at low pressure and, low temperature. Lavender has to be in the cooker chamber for a minimum of one and one-half hours, and better if two hours. But in the commercial distilling in Europe for the perfume industry, they distill Lavender for 15 minutes at 400 degrees and up to 150 pounds of pressure, and they pump chemicals into the water while they are doing it.
"Gary had taken many notes while helping Marcel, and the memory was vivid in his head. As the ideas of distillation occupied his mind, he began drawing them on paper and mentally fabricating how he would build a distiller.
In 1991 for his first distillation experiment, Gary welded two pressure cookers together …" page 31 of D. Gary Young The World Leader of Essential Oils.
Gary was always testing and adjusting the distillers to get a higher quality essential oil. He designed the proprietary low-pressure, low-temperature stainless steel steam distillation system to preserve the highest quality of essential oils.
Drawing and designing distillers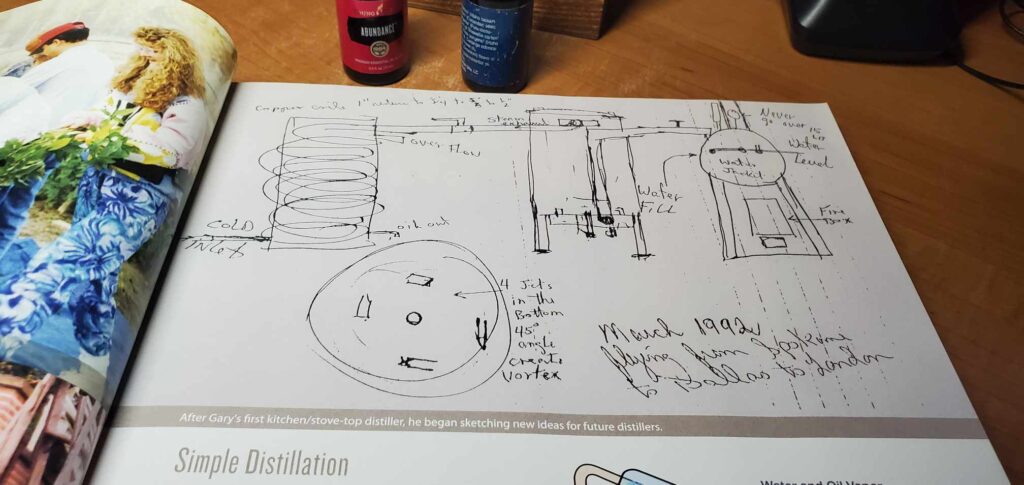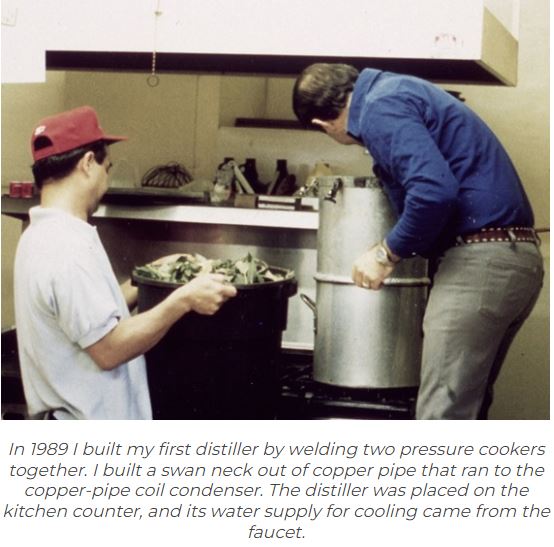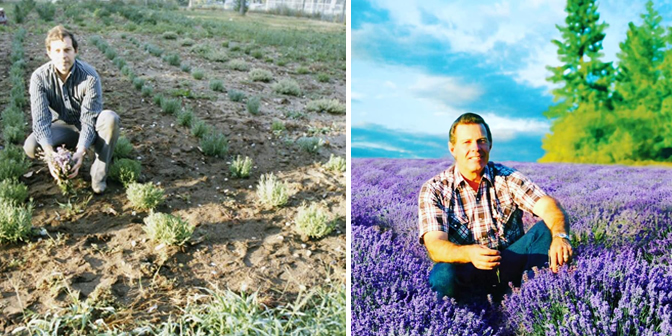 1989 Gary plants a one-quarter acre farm in Spokane, Washington, and fabricates his first distiller.
1992 Gary purchases 160 acres in St. Maries, Idaho, for growing plants and distilling essential oils.
1995 Gary purchases 138 acres of farmland in Mona, Utah.
D. Gary Young, Innovator | Young Living Essential Oils
1994 Building Young Living's First Distillery
Gary was always growing, testing, distilling, researching. Testing and adjusting the distillation process to get the highest quality essential oil.
Those of us who have been around from the beginning were blessed to hear Gary talk about the research he did. How he developed the distillation process and kept improving it to be even more efficient but also how he tested to see what was the best harvest time of day to get the highest quality of oil.
Did you know that some of the tree oils are best harvested in the bitter cold. Black spruce is one of the most demanding harvests at Young Living's farms, yielding the greatest volume of essential oil between freezing and -20° F (-28° C). At bone-chilling temperatures, farm crews head out into the forest to harvest and chip mature black spruce trees, allowing younger trees the opportunity to thrive.
Watch the video to Gary explains why Ylang Ylang is harvested at night between midnight to 4 am.
Gary Explains Why Ylang Ylang Harvested at Night Time
Gary Young takes a group of distributors participating in the 2012 Winter Harvest through the process of distilling essential oils at the St. Maries Farm Distillery.
Gary Talks About Distilling